There are many reasons why we love getting messages from customers and friends who snap a photo when they "spot a Dinkum" on productions large and small, and this image has particularly tickled our fancy.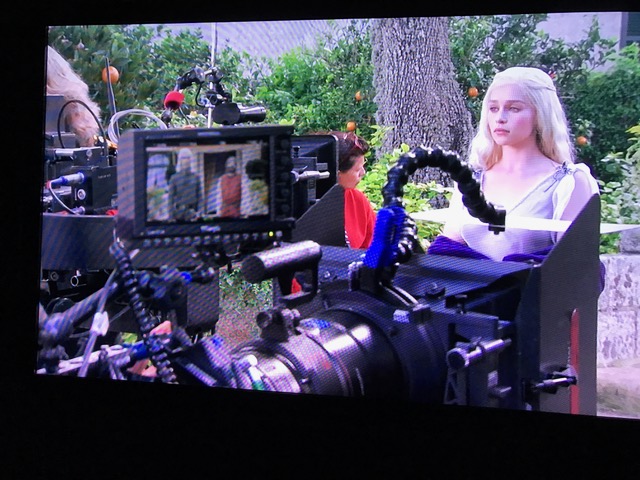 Caught on a behind-the-scenes HBO special for the incredible series Game of Thrones, it shows the wonderful actress Emilia Clarke in full splendor as the character Daenerys Targaryen. While most wouldn't look past this great talent, the snap also shows one of our trusty CINE Lens Shades doing what is was made to do and blocking flare, with an old style blue-and-yellow clamp covered with black rubber tips.
Those distinctive colours tell us that the anonymous shooter behind the camera has owned this piece of our gear for close to a decade, as that's how long it has been since that style of clamp was being used in our production. This clamping French Flag was built when our founder – working DP John Mans – was making the product by hand in his garage, in between jobs, using off-the-shelf parts. It is a very cool thing to see a item personally made by John still forming a critical part of another camera operators kit.
While we've grown considerably in size since those early days, and our production methods are certainly a little more sophisticated, we continue to stand by that same expectation of quality and durability, and expect to see Dinkum Systems gear out there making productions easier for many years to come.
Get the system. Get the picture.
* special thanks to our founder John Mans' old friends Nat Chotechuang and Tony Maul for sending this to us!