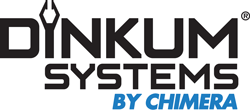 Dinkum Systems by Chimera
In the late 1990's John Mans, a Colorado cinematographer, invented the first clamping French flag and the FlexiMount microphone mount. Designed to deal with the on-set challenges on exactly the types of shoots John was working on at the time; fast paced filming in rugged environments and difficult conditions. At that time these products were sold through a handful of specialty camera stores in LA .
Since the official launch of the full Dinkum Systems brand in 2009, Dinkum Systems has continued to expand its global dealer network.
In 2018, Chimera Lighting acquired Dinkum Systems. Since 1980, Chimera has been developing and manufacturing lighting products for cinema, video, and still photography. Chimera's lighting products have consistently helped professional imagemakers worldwide, consistently deliver award-winning imagery. chimeralighting.com
John Mans, Founder & Andi Lucas, Past COO