Dinkum Systems Founder and Emmy award-winning cinematographer John Mans reports:
My favorite film festival gears up this week!
The Jackson Hole Wildlife Film Festival is a bi-annual showcase of nature documentaries, and a gathering of cinema's most fascinating hard-core adventurers.
While the remote location at the base of the Teton Mountains, Wyoming during the beginning of Fall make it a spectacular place to visit, it's the attendees that make the festival exceptional. From the farthest corners of Earth, filmmakers that embody the "Walter Mitty" persona of adventure filmmaking gather, and the bar banter between colleagues who have formed bonds during shoots in the wildest places is beyond belief. These are the real swashbuckling explorers people imagine when they think of classic National Geographic exploration and cinematography.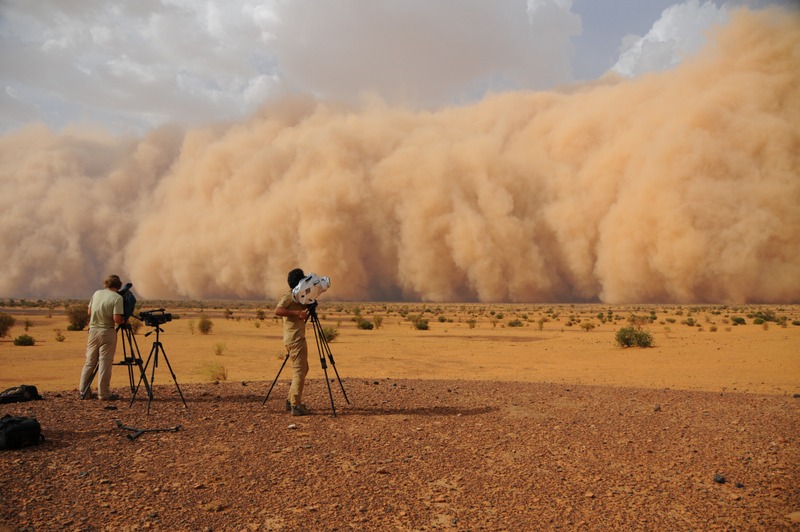 Bob Poole and Dinkum Systems founder John Mans capturing the ferocity of a Saharan sandstorm on location for National Geographic in 2008
I always wanted to be amongst these intrepid explorers. Since I was 12-years old I'd known what I wanted to do with my life, and my invention of the clamping french flag in 1995 turned out to be a crucial piece of the puzzle. I'd identified my hero of the adventure world as cinematographer Bob Poole, and I pursued him for years to try to be his assistant. It wasn't until I physically taped my resume to a CINE Lens Shade and sent the essential piece of gear to Bob that he finally took notice, and after proving myself in the field, I became his AC.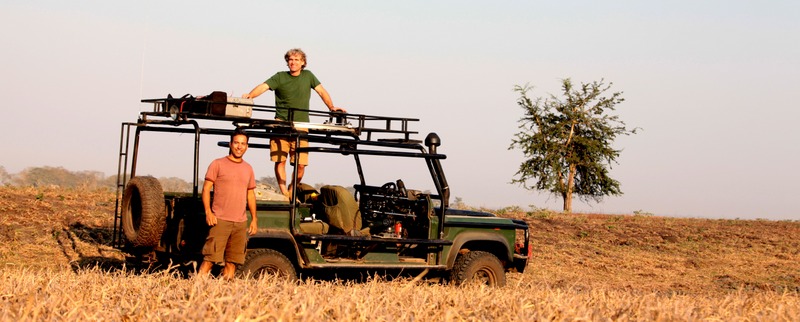 Bob Poole and Dinkum Systems founder John Mans on location in Mozambique, Africa
Over the next 10 years we shot those wondrous films I'd dreamt about as a kid. We trudged into the Amazon chasing jaguars, camped in the Sahara, opened Egyptian tombs, discovered "extinct" animals in Thailand, heli-skied in Alaska, and rappelled into unexplored gorges in Mozambique. I don't get in the field with Bob these days, but the memories and tales go on for hours when I see him. For me, there's always a sense of gratification when he sends pictures from the field and he's still using that old Dinkum Systems clamping french flag!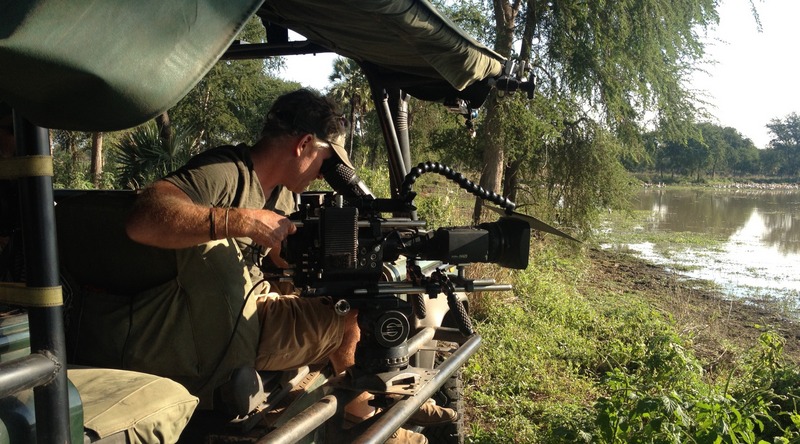 Bob Poole on location in Mozambique, Africa, using his trusty Dinkum Systems CINE Lens Shade